What Is the Acorns Invest Account?
Acorns is designed to help you start small and build wealth over time. We offer both regular and retirement investment accounts (called Invest and Later) plus Spend, the only checking account with a debit card that saves and invests for you.
Invest, our main investment account, lets you set up one-time or recurring investments for as little as $5. And, through our Round-Ups feature, you can automatically invest spare change from any purchase you make with a linked card. (The cost is $1 a month.)
With Round-Ups, each time you make a purchase with a linked card, you're basically investing the change you'd get into a portfolio with exposure to thousands of stocks and bonds. We automatically invest your Round-Ups when they hit $5 or more, along with any other contributions you may make. We also cover any trading fees and rebalance your portfolio to keep you on track for your goals. And we automatically reinvest dividends (payments some companies give to shareholders) to help your money grow even faster.
Because Acorns doesn't just collect your spare change—it invests it in the stock market—your money gets the chance to grow in a way it couldn't sitting in a jar (or even a savings account). Historically, the stock market has seen average returns of about 7.5 percent a year, meaning a $5 investment might more than double over 10 years.* What spare change jar can do that?
How Can You Invest Money With Acorns?
Though in the past you might have needed hundreds (or thousands) of dollars to start investing, with Acorns, you can start investing with as little as $5. That's thanks to something called "fractional investing," a process that lets you buy tiny slivers of exchange-traded funds (ETFs) instead of having to buy whole shares, which can cost a lot of money.
These ETFs invest in thousands of stocks and bonds. This helps you keep your eggs in a lot of different baskets to decrease the likelihood you might lose money while increasing the chance you see steady growth. All this means your money can start benefiting from the wealth-generating potential of investing as soon as possible.
And how can I do that?
A few ways.
With Round-Ups, or the spare change left over from transactions, you can start investing each time you swipe a linked credit or debit card. Each coffee you buy for $2.75 becomes a 25-cent investment in your future.
To get started, just link your primary credit and debit cards to your Acorns account and make sure Round-Ups are enabled. Every time you swipe, we round up your purchase to the nearest whole dollar and collect the spare change. Once that change hits $5, we withdraw it from the bank account you linked and invest it in your Invest account. The exact amount invested from Round-Ups will generally be just over $5 but may be higher when the market is closed or the number of Round-Ups processed at once. On average, Acorns users currently invest about $30 a month through Round-Ups.
Haven't turned on Round-Ups yet or want to update your settings?
If you want to supplement your Round-Ups and grow your money even faster—or if you'd feel more comfortable investing a set amount regularly instead—you can set up regular investments of $5 or more into your Invest account daily, weekly or monthly. That way you don't have to worry about setting aside money from each paycheck to invest. With a Recurring Investment, you're doing that automatically, helping you grow your wealth. Just set it and forget it.
Haven't set up a Recurring Investment?
Whether from birthdays, the holidays, tax returns or anything else, you may find yourself with a little extra cash from time to time. While you may not be ready to bump up the amount you invest regularly, you might still want to grow your money faster. With a One-Time Investment, you can schedule a one-time-only investment of any amount over $5.
Want to set up a One-Time Investment?
Invest for your future
Imagine if you could invest in your future without really noticing. Sign up in under 5 minutes and join over 4,000,000 people!
Invest automatically
Set aside spare change or extra cash as you go about your day with Round-Ups and Recurring Investments.
Save for later
Get the easiest IRA, Acorns Later, and save for retirement without thinking about it.
Stick with it
Sit back and let your money grow over time in diversified portfolios constructed by experts.
Spend smarter
Pre-order the only checking account with a debit card that saves and invests for you, plus no minimum balance or overdraft fees.
Earn Found Money
The more you earn, the more you can save and invest! Grow faster with these 250+ top brands that invest in you when you shop.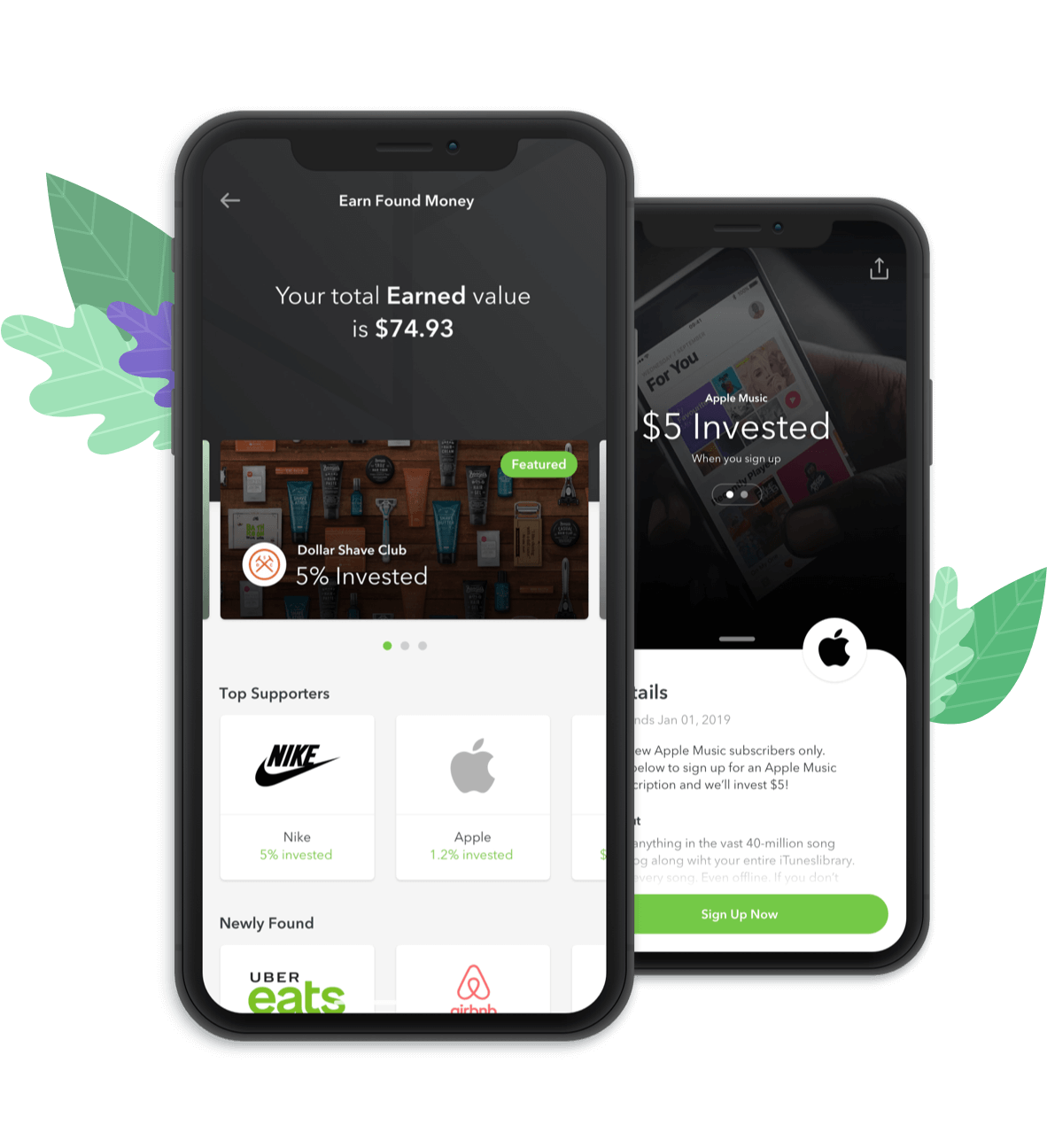 Click below to Find Out How To:
INVEST SPARE CHANGE WITH EVERY ATM PURCHASE
Example:
Coffee                                                  $3.24
Your Investment Account                   .76
Round Up the 76 cents  Into Your Investment Account.
Start Growing WEALTH Automatically TODAY!
The Money adds up very quickly And You Set It Up To Happen Automatically with each ATM purchase.