Get your finances in order with a budget, which can help you free up money to save and invest.
Once you are spending no more than you earn each month, try to save 3 to 6 months' expenses in an emergency fund. Then put away a minimum of 10% of your income each year to invest for retirement. Next, save and invest towards your other goals.
Customize your budget to fit your own goals, priorities, and fixed costs.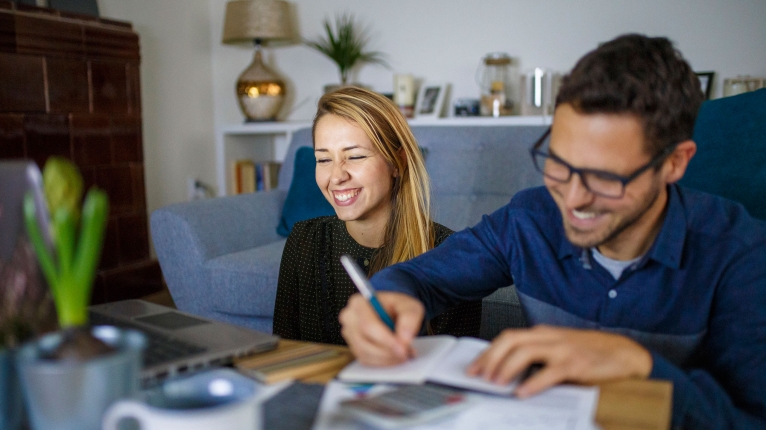 Creating a budget is a big step toward getting your finances in order. You potentially can see some quick opportunities to up your savings game. 
Start with the numbers
Knowing where your money is going is key to getting on track, so be sure to monitor your income and expenses. Start by taking a look at a few months of credit and debit card statements to get a sense of your spending. 
Within your expenses, try to separate needs from wants. It's important to define what is necessary and what is a nice-to-have for you. Groceries, rent or mortgage payments, car payments, and minimum payments on your credit cards are all examples of needs. For instance, while you might be able to spend less on groceries, you can't stop eating altogether. Wants are fun upgrades: a nicer hotel on vacation, better seats at the game, or clothes from a more expensive brand. 
Needs vs. Wants
After you look at what you're spending on needs and wants, you can decide if the patterns you see meet your priorities. Does your income just match your expenses, or is it less than what you're spending? Are you surprised by anything you see? If you're spending more than you make, you will need to cut out some of the wants on your list. If your income covers your spending, consider whether you can set a savings goal by dialing back some of your wants. 
If you're making more than you spend, congratulations! Think about how you're allocating that extra money. Are you saving it or investing it? Saving is the right answer for some goals (for example, your emergency fund or the down payment on a house), while investing may make more sense for others (for example, retirement or your kids' education). 
Budget shortcuts
Once you've figured out your expenses, there are a set of simple rules that can help you make sure you're spending your money wisely. Everyone's situation is different and there are many ways to approach designing your budget; see if this works for you. First, try not to spend more than you earn on a monthly basis, even if you get a bonus. Second, buy yourself some freedom by building an emergency fund worth 3 to 6 months' expenses. Plan to keep that on the sidelines and don't spend it. Third, pay yourself forward by putting at least 10% and ideally 15% of your annual income away as savings and investments for retirement. Once you've done that, you can save and invest toward other goals like buying a house and paying for your children's education. 
Tips to get started
Tweak your savings target: If you're not used to saving, 20% can feel unachievable. Just start by saving what you can afford and inch up over time as you can. 
Consider automated contributions: directly depositing a portion of your paycheck into a savings account can help you contribute toward your goals in a seamless way. You can also set up automatic contributions into an investment account and use pre-determined amounts of money to buy specific securities on scheduled dates.
Check your transactions: Are you wandering over to the office snack machine every afternoon – even if you're not hungry? Paying for a streaming-video service you rarely watch? See if you have a spending habit that you can try to cut back on.
What's next?
Once you set a budget, it's important to keep reviewing your account statements to see if you're sticking to it. If you discover that you are overspending, take a second to understand why. It's completely normal to go over budget sometimes, but if you find this happening all the time it might be time to hone in on the details.
IMAGINE HAVING ENOUGH MONEY TO DO WHATEVER YOU WANT, DRIVING YOUR DREAM CAR, RETIRING SOONER RATHER THAN LATER!
CLICK: understandingmoneypays.com
WATCH THE FREE VIDEO THAT EXPLAINS
THEN CALL OR TEXT ME AT: (954) 317-0430 OR CLICK ENROLL NOW
THAT'S IT.
YOU ARE ALWAYS ONE DECISION AWAY FROM A TOTALLY DIFFERENT LIFE!
HAVE A AWESOME DAY!      DAVID GRAY